I have not done a blog hop in quite awhile! This is a perfect one to join back in on :o) As soon as school started I started not feeling well- Perfect timing!! I am a little behind on things but trying to get going again and would love some new followers. Please leave a comment so I can follow you back.
Check out my Three by Three giveaway where you can win an Entry Butler- compact organization center -- perfect for entries, kitchens, and offices. Rear compartments hold a phone, mail, pads, etc., while metal hooks at the bottom hold keys, scarves, bags...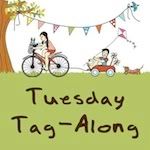 I am cohosting an awesome Christmas Event along with
A Sink Full of Dishes
- 30 Days of Christmas that will run from Nov 15- Dec 15. Throughout the whole event we will be sharing yummy recipes, money saving tips, holiday decor & crafts and offering awesome reviews and giveaways (perfect for gifts!)
We are still looking for guest posts and businesses who are interested in having their products featured. You can contact me at
thesimplethings10@gmail.com
if you are interested or for more information.
Be on the lookout for more information!!!