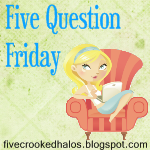 I am gonna give this a try! :o)
1. What is one food you could eat everyday?
That would be between cereal or ice cream (Did you know National Ice Cream day is coming up?? & I just might have some free coupons :o)
2. Are you working in the career you thought you would be when you were 18?
Nope, at 18 I was not sure. I had a 1 year old at the time and worked a couple jobs for about a month but it just SUCKED having to leave her. I feel so blessed to get to work from home!! My goal in High School was to do something with business/management (I would LOVE to own my own business) but after I had more kids I started working towards my teaching degree, I need to start doing school again!!
3. What is something that you wish you would have done when you were younger and you didn't?
Been better at doing college classes. I graduated a year early and had done some college classes so I didn't do too bad, I just wish I would have worked even harder right after High School when I got financial aid.
4. What color are your kitchen walls?
Right now they are just white. I started painting my dining room a greenish color but I think I might want to do something different so haven't even started on the kitchen.
5. Do you remember what your very first favorite song was?
I remember a few different ones, My sister & I loved Shania Twain, Brittany Spears, N*Sync, Backstreet Boys **embarrassed** Ok, I'll shut up now!